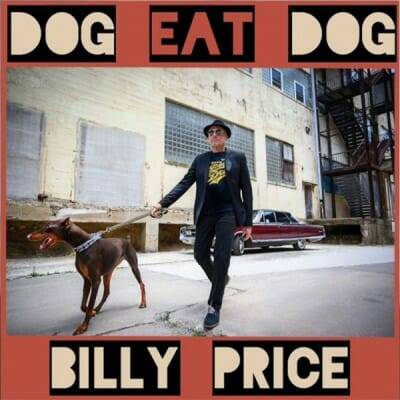 Billy Price
Dog Eat Dog
Gulf Coast Records
Billy Price first came to national attention as the singer with Roy Buchanan. He appears on 1974's "That's What I'm Here For" and 1975's "Live Stock". Price formed the Keystone Rhythm Band in 1977 and recorded four albums before renaming his band The Billy Price Band.
Price had also recorded several tracks with soul blues icon Otis Clay and they re-united in 2015 to record a full album "This Time For Real" on the Vizztone Label. As a result they won a 2016 Blues Music Award for Soul Blues Album of The Year. Price's last two albums were 2017's "Alive and Strange" and 2018's BMA nominated "Reckoning".
This is Price's seventeenth album overall and first for Mike Zito and Guy Hale's new Gulf Coast Records. Once again Price has teamed with Kid Andersen and recorded at Andersen's Greaseland Studio in San Jose. Returning are musicians who helped make the last album a contender for the 2019 Soul Blues Album of The Year. Included are the rhythm section of Jerry Jemmott, bass, and Alex Pettersen, drums; keyboardist Jim Pugh; percussionists Jon Otis and Vicki Randle; co-producer Andersen, guitar; and the horn section of Eric Spaulding, tenor sax; Jack Sanford, baritone sax; and John Halblieb, trumpet. The background vocalists include the Sons of the Soul Revivers, Lisa Leuschner Andersen, and Charlie Owen. Special guests include vocalist Alabama Mike, harmonica master, Rick Estrin, and guitarist Zito.
Eight of the twelve tracks are new originals. Four co-written with Price's longtime writing partner Jim Britton including the danceable opener "Working On Your Chain Gang" and the atmospheric "Lose My Number"; both beautifully sung by Price with backing from the Sons of The Soul Revivers. Also from this songwriting team is "All Night Long Café" and the funky "Toxicity"; Executive Producer Hale joining them on the writing of the latter. Britton also contributes "Walk Back In". Additionally Price collaborated with French guitarist Fred Chapellier on the writing of both "Remnants" and "More Than I Needed"; while he and Bill Troiani co-wrote "You Gotta Leave".
"Dog Eat Dog", the title track written by Estrin, first appeared on 1993's "Night Vision" by Little Charlie & The Nightcats; Alabama Mike shares the vocal with Price as Estrin sits in on harmonica. Other selected covers include Bobby Byrd's 1965, James Brown produced, song "We're in Love" with great bass from Jemmott, a tenor solo from Spaulding, and background singing from Owen. The Willie Dixon authored "My Love Will Never Die" first recorded by Otis Rush in 1957 showcases Price at his very best. "Same Old Heartaches" first recorded by the Impressions in 1976 features Jemmott, the Sons of the Soul Revivers and guitarist Andersen.
Throughout the recording vocalist Price is outstanding while keyboardist Pugh's decorations are like the icing on a cake. The production by Price and Andersen is unparalleled as there is so much going on. This is the Soul Blues Album of The Year.
Richard Ludmerer