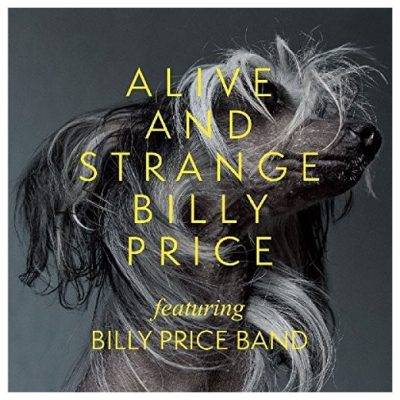 Billy Price
Alive & Strange
Nola Blue/Vuzztone Label Group
Billy Price was born William Pollak in Fair Lawn, N.J. in 1949. In the seventies he moved to Pittsburgh where he still works for Carnegie Mellon University. Price became Roy Buchanan's vocalist and he appears on Buchanan's 1975 album "Live Stock" on Polydor Records. Price formed his own band, The Keystone Rhythm Band, and from 1979 until 1988 released four albums. Price renamed his band The Billy Price Band and has since recorded ten more albums including 2013's "Strong" featuring special guests Monster Mike Welch and Mark Wenner.
During his career Price recorded several songs with Otis Clay and in 2015 they re-united to record a full album, "This Time For Real", on the Bonedog/Vizztone label. They won the 2016 Blues Music Award for Soul Blues Album of the Year.
This is Price's fifteenth album overall. Currently the band includes Price, vocals; Steve Delach, guitar; Jim Britton, keyboards; Tom Valentine, bass; David Ray Dodd, drums; Eric DeFade, tenor sax; Joe Herndon, trumpet; Matt Ferrero, tenor and baritone sax; and backing vocalists David Avery and DeWayne Chandler. The album was recorded live at Pittsburgh's Club Café.
Price opens with "It Ain't A Juke Joint Without The Blues" written by singer/songwriter Big John Cummings. The song was first recorded by Carl Sims and it appears on his 2004 album "It's Just A Party" on Ecko Records. This is seven minutes of great soul blues featuring some nice guitar from Delach and a fabulous tenor sax solo from DeFade. "You got a forty ounce on the table; you got a trash talking woman named Mabel".
"Lifestyles Of The Poor & Unknown" is from William Bell. The song first appeared on "A Portrait is Forever" released in 2000 on his own Willbe label. This is beautifully sung by Price and features some notable keyboard work from Britton and a horn arrangement by DeFade.
"Something Strange" was co-written by Price with French guitarist Fred Chapellier who teamed up with him to record 2009's "Night Work" and 2010's follow-up "Billy Price and Fred Chapellier Live on Stage" which documented the Night Work tour. "Making Plans" was co-written by Price and Michael Karr.
"One More Day" is from Mike Schermer and Earl Thomas and the production by Price, Britton and DeFade is fabulous.
Selected covers include "This Time I'm Gone For Good" which was a 1973 single by Bobby "Blue" Bland; Price's vocal and DeFade's sax solo are both slow and sensual. "Nothing Stays The Same Forever" is from Percy Mayfield. "Never Get Enough" is seven minutes of funk written by James Brown, Fred Wesley and Bobby Byrd; it was first recorded by Byrd in 1972 and appears on his album "Hot Pants, I'm Coming, Coming, I'm Coming".
"What Have I Done Wrong" is from Magic Sam and appeared on 1968's "Black Magic" recently re-issued by Delmark. "Lickin' Stick" was a funky 1968 single from George Torrence and The Naturals; while "R.M. Blues" is from Roy Milton and a single for him in 1960.
Clay passed away last year and he is greatly missed. Fortunately Price is singing better than ever and carrying on the soul blues tradition. This album just has to be heard.
Richard Ludmerer
[amazon_link asins='B06WLR31NS,B00VUBKAXA,B00004D38U,B000CADRQC,B000025142,B001Q4N7Q8,B00003Q06R,B003CN980A' template='ProductCarousel' store='maasc-20′ marketplace='US' link_id='f8d0f15a-1b17-11e7-a860-75ef84f0d7ff']