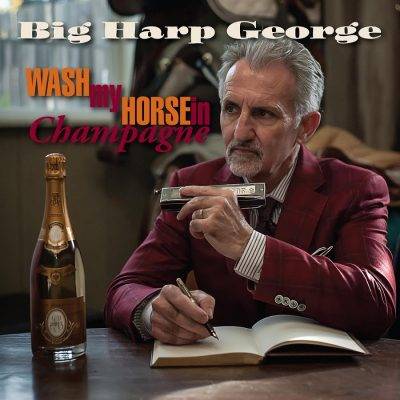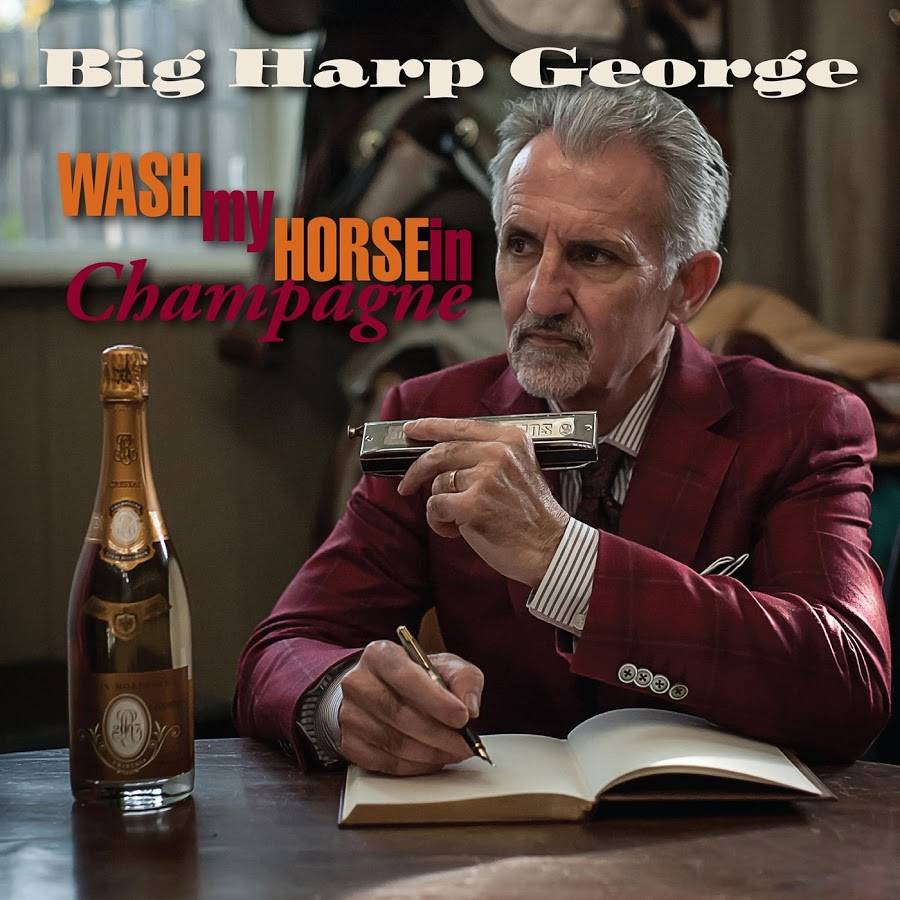 Big Harp George
Wash My Horse in Champagne
Blues Mountain Records
Big Harp George, whose real name is George Bisharat, is a retired professor from The University of California Hastings College of Law. He released his debut recording "Chromaticism" last year at the age of 59. That album earned him a 2015 Blues Music Award nomination as Best New Artist Album. He states that his primary harp influences are George Smith, William Clarke and Paul DeLay. He is now pursuing his passion full time.
George has written all of the songs included on this his sophomore recording. He prefers the bigger chromatic harp and plays the diatonic harmonica on just one track. The band on this recording is similar to the one used previously; Big Harp George, vocals and harp; Producer Chris Burns, keyboards and backing vocals; Raja Kawar, drums and backing vocals; J. Hansen, percussion and backing vocals; Kid Anderson, bass, guitar and backing vocals; Kedar Roy, bass; Little Charlie Baty, guitar; and the horn section of Mike Rinta, trombone; and Michael Peloquin, sax. The album was recorded at Greaseland Studios in San Jose, Ca.
Burns' piano opens "Home Stretch" but it is quickly replaced by George's harp. Baty is on guitar while Anderson is on bass. George sings "I'm on the home stretch of my life". George's solo is perfect. Baty plays lead on "Wash My Horse in Champagne". George states that "a rubber baron in nineteenth century Brazil flaunted his wealth by washing his horses in champagne!" The groove in inspired by Brazilian jazz. Baty continues playing on George's jazzy "I Ain't The Judge of You" while Peloquin nails his sax solo. The sentimental "I Wasn't Ready" is about the shock George felt after the sudden loss of his mother. On "Cool Mistake" J. Hansen joins in on the washboard and it gives the tune a skiffle sound.
Anderson takes over with some fierce lead guitar on "Road Kill". He plays again on "My Bright Future" while Burns' keys and Kawar's tom toms accentuate the lyrics. "If Only" features the horn section. "Light From Darkness" is a funky tune with great harp from George and some crazy guitar antics from Anderson. "What's Big" is the only tune where George is playing a diatonic harp, Loralee Christensen sings harmony.
"Size Matters" is an instrumental that highlights the tone and pitch of the chromatic harp. "Mojo Waltz" is another harp instrumental that utilizes the horns with a nice trombone solo from Rinta; the arrangement is by Peloquin. The album closes with "Justice in My Time" a duo performance with just George's harp and Anderson on bass.
George's singing is better than ever and the band cooks from start to finish. Big Harp George proves himself one heck of a player as he takes the chromatic harmonica in new directions with this diverse set of originals.
Richard Ludmerer