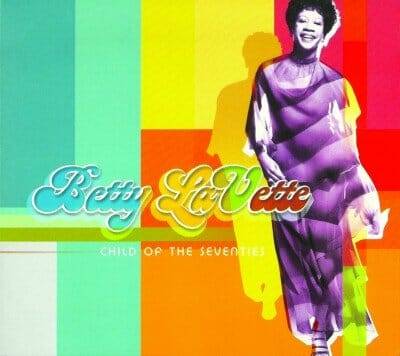 Betty LaVette "Child of the Seventies" www.RealGoneMusic.com
It has taken nearly forty years to have Betty LaVette's "Child of the Seventies" unearthed, but the wait was worth it as this lost gem has aged like a fine bottle of wine. Soon to be seventy years young – the youthful soul diva had several brushes with stardom. At sixteen (1963) she waxed her first sides for the Michigan based Lupine label that vaulted her to a contract signing with Atlantic Records, LaVette garnered some success, but was soon cut loose by the label. In 1972 LaVette returned to Atlantic via the Atco division for a cover of Neil Young's "Heart of Gold." At this time (1972-73) the entire "Child of the Seventies" was recorded at Muscle Shoals. From these sessions Atco released a single: "Your Turn to Cry" but it didn't chart, and Atco/Atlantic derailed the full LP/album release of "Child of the Seventies," until recent times…
The first twelve tunes are from the original recording, the remaining ten are listed as "bonus material." Highlights are a cover of Ron Davies gruff "It Ain't Easy," and the aforementioned (co-authored Joe Simon single) "Your Turn to Cry" are both nailed by Bettye's vocal prowess. The producer of these sessions Brad Shapiro authored the soulful, punchy and funky "Soul Tambourine" a perfect vehicle for Betty's righteous and sassy voice, as is the raucous (uncredited author) "Ain't Nothing Gonna Change Me." Bettye wallops the hell out of Andy Fraser's, Paul Rodgers' and Paul Kosoff's (better known as the rock group Free) "The Stealer," which was the flipside to their megahit single "All Right Now." In Betty's grip "The Stealer" takes on a different and deeper interpretation that's exceedingly more memorable than the original. From the "bonus material" LaVette authors "Waiting For Tomorrow" is full of haunting drama and sounds years ahead of its time. There are two mono mixes of tunes from the original album, and the funked-up take of Neil Young's "Heart of Gold" that's surprisingly sharp and hip. The last four tunes are Atlantic singles from '62 and '63, the best are "Here I Am" swings along in a bluesy swagger, and "My Man – He's a Lovin' Man" is cool with heady chord changes that features a howling guitar solo in the instrumental chorus backdrop.
"Child of the Seventies" was recorded – than deleted for release – Betty faded to near obscurity. She joined the Broadway musical Bubbling Brown Sugar and briefly signed to West End Records for 1978's disco "Doin' the Best I Can." She didn't record again until 1982 for Motown when she first called herself "Bettye." But success came two-decades later when she released "A Woman Like Me" on the equally obscure Blues Express label. This outstanding recording won her a 2003 W.C. Handy Award and a shiny new record deal with Anti Records, and just like that Bettye was back in the public eye. Her strong will and persistence was and remains justly rewarded to this day. Today LaVette resides in NJ and tours the world. Treat yourself to a LaVette concert; she's a very special artist who can hypnotize and silence a full house to where you can hear a pin drop – than can explode with vocal emotions that are genuine and riveting.
"Child Of The Seventies" was first made available (stateside) as an individually numbered seventy-five hundred copy run for Rhino's Handmade imprint. I'm not certain but this could be Real Gone's first reissue of the highly sought-after – limited-edition Rhino "Handmade" series, many of which are long out of print and pricey on the used market.
2015's most pledged to ($21,000+) radio program at http://wfdu.fm For 16 years Bob Putignano has been pivotal at WFDU with his Sounds of Blue radio show (Wed. & Fri. 9am-1pm) www.SoundsofBlue.com – Previously a contributing editor at Blues Revue, Blueswax, and Goldmine magazines, currently the Music Editor for the Yonkers Tribune www.YonkersTribune.com – www.MakingAScene.org & www.wfdu.fm/Whats-Happening/Bob's Music Reviews/bobs music reviews/ Bob was the 2003 recipient of the "Keeping the Blues Alive" award (given by the Blues Foundation in Memphis) for his achievements in radio broadcasting. Putignano can be contacted at: bob8003@yahoo.com
—————————————————————————————————————————————————-
Bob Putignano: www.SoundsofBlue.com Wed. & Fri. 9am-1pm:
2015's most pledged to radio program at WFDU @ $21,000+ http://WFDU.fm Now celebrating 15 + years on the air in the NYC area Music Editor: www.yonkerstribune.com, www.makingascene.org & wfdu.fm/Whats-Happening/Bob's Music Reviews/bobs music reviews/