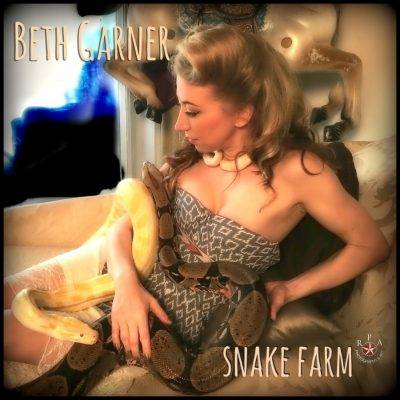 Nashville singer and guitarist Beth Garner has released a new album. Snake Farm, which has just the right sizzling, slithering, smoking guitar  and sometimes mystical or  menacing lyrics for n album of that title. If you like talented women with an edge like I do, who can be playful too, this is definitely for you. In fact, when you see that cover photo with Garner and a snake, you know you aren't getting sweet songs here. But don't be scared away! This is good stuff.
The album was mostly recorded live at Slack Key Studios in Woodbine, Tennessee, so it has that immediacy that only comes from live performances.  All but one song was written or co-written by Garner. The one song not written by or with her is the title song,"Snake Farm," which was written by Texas legend Ray Wylie Hubbard.
Garner is backed on the album by Rory Hoffman on sax, keyboards and rhythm guitar, Wes Little on drums, Steve Forrest on bass, and Angela Primm and Gale Maye on some very effective background vocals. There are only seven songs on the album, so you may wonder if you are getting you money's worth. The answer is yes, you are.
First of all, the woman is an incredible guitar player, on both standard and slide. The production is phenomenal and the band is amazing.There are lots of instrumental solos t let you experience that to the fullest. The skillful use of the background singers adds a haunting quality to even the rockers. Garner's voice has more than a passing resemblance to Sheryl Crow's, and is equally suited to a storytelling song like "Snake Farm," a scary gospel-tinged apocalyptic number like "Drop Down" or the  blues-rock of "Alright by Me (Mr Fisher )and "Wish I Was" " She can handle the  the rock of "Ramblin' Man."  and the swamp-rock of "Backwoods Freddie."
Highlights of the album for me include two songs Garner co-wrote with Fred Kohler.  The first is "Backroads Freddie." a catchy, swampy tune with some tasty harmonica and a slight edge of menace to the words, as in many a blues tune, enhanced by Garner's low register and use of overdrive on the vocals.It will stick in your head. "Drop Down" is a truey spooky gospel blues about the end of the world as we know it. The slide doubling the lyrics and the words about buying "milk and bullets" will send delicious shivers down your spine. This is also the song that uses those background vocals mos effectively.
"Snake Farm" is about a real snake farm in Texas  just north of San Antonio on I-95. It is pretty famous in that area. I love the story in the song and the way Beth adds that little "SSsss…"
Just to prove it's not all about the weirdness, "Used to Be" is a Elmore James-type shuffle that really showcases Garner's guitar skills. Garner explains the song like this: "This song is about being in your 30s, wondering how you ended up where you are and you start looking for your old boyfriend forgetting there were issues, and maybe you would just settle for old time's sake. But then you take a solo and remember it's all just the blues." "Ramblin' Man" is romance from a groupie's  point of view.
The whole album is excellent, really. Give it a listen. Garner is exciting
Products from Amazon.com
‹
›