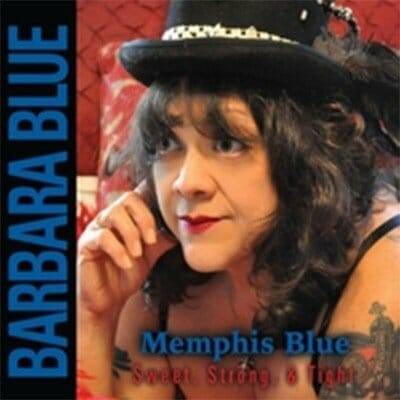 Barbara Blue
Memphis Blue: Sweet, Strong and Tight
Big Blue Records
Barbara Blue was born and raised in Pittsburgh, Pa. She moved to Memphis in 1997 and has been performing there ever since. She has been named "The Queen of Beale Street" and on Friday May 8, after the ribbon is cut on the brand new Blues Hall of Fame, Blue will be honored with a brass music note on what is being called the Beale Street Walk of Fame.
For her 10th independently released album Queen Blue decided to record at the famous Royal Studios in Memphis. The recording is produced by Lawrence "Boo" Mitchell and co-produced by Blue. Mitchell is the son of the late Willie Mitchell co-owner of the Hi Records label. The senior Mitchell worked with Al Green, Ann Peebles, and Buddy Guy. The younger Mitchell learned from his father and his credits include Green, Solomon Burke, William Bell, Rod Stewart, John Mayer and many others.
This recording features The Royal Rhythm Section. Formerly they were known as The Hi Rhythm Section and they still are led by The Rev. Charles Hodges, B-3 organ; and Leroy "Flick" Hodges, bass. Rounding out the Section is David Smith, who plays bass on half the tracks; Stax ace Lester Snell, Wurlitzer organ; Steve Potts, the drummer who replaced Al Jackson Jr. in Booker T. and The MG's; and rhythm guitarist Michael Tols. The Royal Horn Section features Lannie McMillan, sax; Marc Franklin, trumpet; and Joe Spake, baritone sax.
The opening track is "Hands Off". "Keep your hands off him, he don't belong to you", was written by Jay McShann and first recorded in 1955. One immediately notices the fine production work, and horn arrangement by McMillan. The organ solo will charge you up. Bobby Rush guests on harmonica. Blue's vocal timbre is perfect and she ends the song with a soulful narrative.
"No Time To Cry" is from Delta Joe Sanders. Ronnie Earl is featured on guitar and he takes a beautiful solo. The background vocalists Shontelle and Sharisse Norman are the icing on the cake.
"Voodoo Woman" was written by Nancy Apple and appears on her album "Shine" released in 2009. Blue has added Sonny Barbato on accordion and Cody Dickinson on washboard. The song is more Zydeco than Memphis and it makes you want to get up and dance.
"Me and Jesus" was written by Phillip Wayne Cox of the Common Man; a bluegrass, roots and country gospel band. Blue makes this song her own with a fabulous Memphis treatment. "Coat and Hat" was written by T. Plunk also of the Common Man band. Sonny Barbato is featured again on accordion. Blue's clarity and dramatic phrasing is perfect on this song and throughout the recording.
"Love is After Me" was written by the songwriting team of David Porter and Isaac Hayes. It was a hit for Charlie Rich and appears on his only Hi Records album "Charlie Rich sings Country and Western" released in 1967. This song became a southern soul favorite. I love how Blue wraps herself around it.
E. Randle's "I'm Gonna Tear Your Playhouse Down" was a huge hit for Ann Peebles in 1972 and Blue's version is equally moving. "SuperBlues" is from Reba Russell and once again Bobby Rush is featured on harmonica.
Blue recognizes a songs potential. "Rudy's Blues" is the first of five songs written or co-written by Blue. It's an adaption of "The Ballad of Rudy Williams" by Craig Schuster and Tyler Goodson. The original is sort of an unfinished jewel that is wonderfully rearranged by Blue and Snell. Dedrick Davis is added on trumpet and he takes a fabulous solo.
"Rolling Up on Me" was co-written by McMinn, Blue and Snell. Once again Earl is featured on guitar. "800 Mile Blue" was co-authored by Blue and guitarist Earl. "Memphis Stomp" was co-written by Blue, Snell and producer "Boo" Mitchell. It is a tribute to his dad, Willie Mitchell. McMillan's horn arrangement deserves an award of its own.
There is so much Memphis in Blue. She is Memphis Blue. The title track is one of the greatest new songs to come out of Memphis in years. "Sweet, Strong, and Tight", who could ask for more?
Blue is fabulous throughout the recording as she emotes so much soul. She is also accompanied by the tightest band to ever come out of Memphis. This may be the album of the year.
Richard Ludmerer