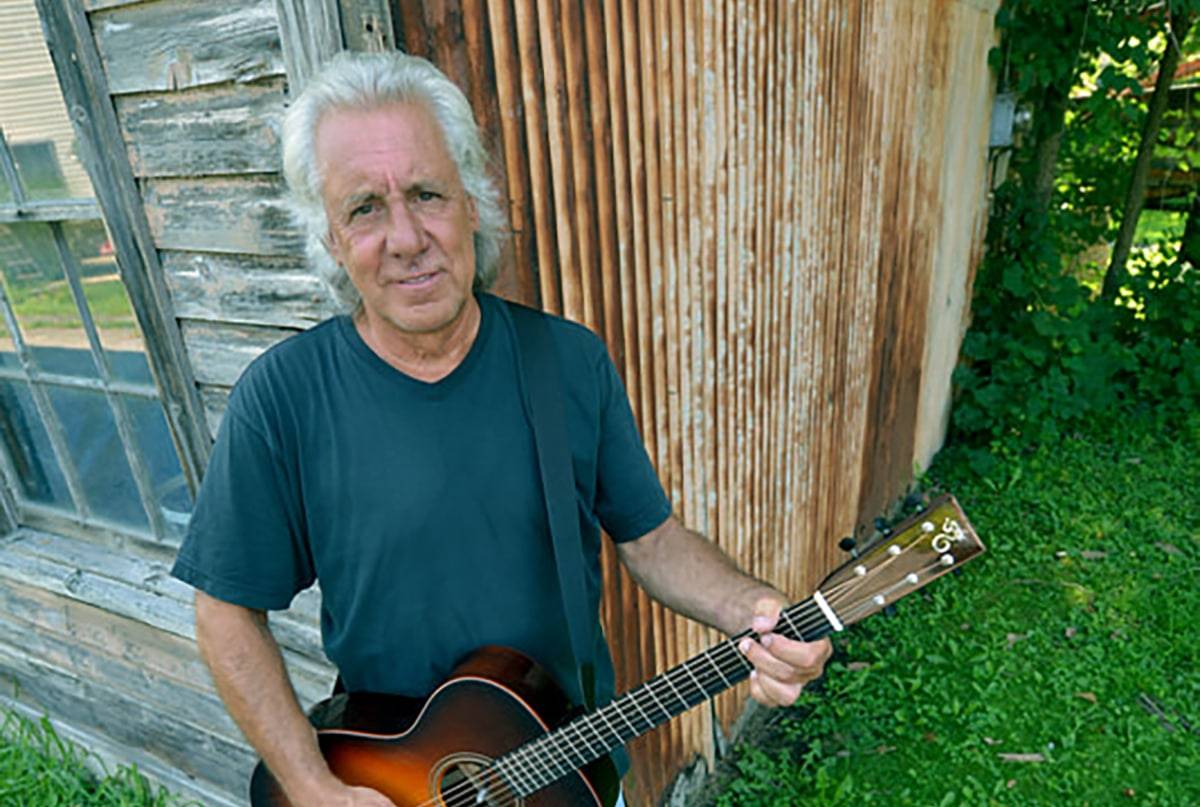 ---
---
---
---
---
---
---
---
---
---
Making a Scene Presents an Interview with Antonio Andrade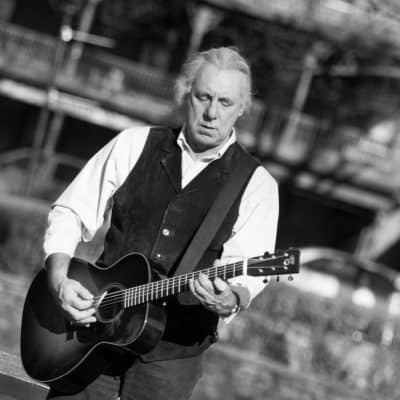 The Pennsylvania-based singer-songwriter and guitarist believes that "singing and playing, presenting songs, and connecting with an audience are more fun than anything else I can imagine. I think it was fun that inspired me more than any one person. The Beatles sure looked like they were having fun, and the fans were going crazy, so music had my attention. Music seemed like fun for just about everybody, meaning the singers, the players, and also the listeners. I was about 10 years old, and I wanted to be the entertainer."
The holidays also proved important to young Antonio, inspiring Jingle All the Way. "On Christmas Eve, 1961, when I was seven, I was in bed, still awake. I heard a thump and voices. Santa? I looked out the second-floor window. It was my parents getting wrapped gifts out of the trunk of the car. The magic of Christmas for a kid may change as the kid gets older. Christmas may change. The magic in the music may change too, but it's still magic!"
The root of this project was the covid pandemic, the shutdown, and the concomitant changes and adjustments. These songs provided a big part of happy days and happy years in Antonio's life. The magic of Christmas, for him, was the magic of Santa Claus. Years passed, lives passed, the pandemic came, and Antonio wasn't singing his Christmas covers cause there were no live audiences in 2020. Music had always been a big part of the fun for Antonio at Christmas, and he decided the three months starting at Thanksgiving, 2020, was a good time to have fun in the studio.
​
The eight songs, written between 1934 and 1962, range in age from 59 to 87 years old. All are widely known, and people of all ages sing them. In a certain sense, they have become folk songs. Antonio built his interpretations here around acoustic guitar and harmonica.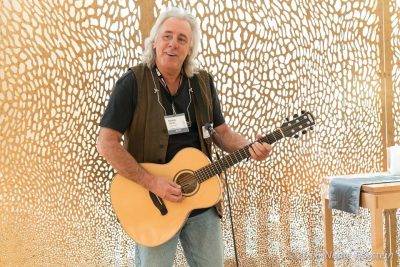 Antonio sang and played acoustic guitar on "Winter Wonderland" and "Have Yourself A Merry Little Christmas," then added harmonica to each. He did "Silver Bells" in 4/4 time rather than 3/4 time. Derek Euston added bass to all of them. Amma Johnson is back for her third record with Andrade. She adds her angelic background vocals and her spirit to four of the eight tracks. "Let It Snow" followed. "If I can do eight, I'll make a record. It will be good to do songs that I can sing," Andrade thought. "Jingle Bell Rock," "The Christmas Song (Chestnuts Roasting)," "Sleigh Ride," and "A Holly Jolly Christmas!" The songs appear on the record in the order he recorded them.
Euston earned co-producer credit, while engineering his 5th album for Antonio at his Green Room Recording Studio. "There are a couple of songs where we used a bass line or a guitar lick from a traditional version. Derek was the full orchestra on bass, electric guitar, and keyboards!" exclaimed Antonio.
He has greeted the limited return to performing with similar enthusiasm. "The sensation of sharing energy with an audience arouses passion in me. Music has a presence and a life of its own. I am trying to share it, and I am attracted to the possibilities. I am seeking to honor my passion," the Centralia, PA native explains.
That level of commitment to the song and the audience and that drive to share music he loves makes Andrade a consummate cover artist despite his success as a songwriter. He earned a career highlight with his interpretation of the Talking Heads' "This Must Be the Place" on his first covers project, 2010's See If You Recognize This One. The next year his song was used in the movie of the same name starring Sean Penn, Frances McDormand, and Judd Hirsch.
The modest Andrade admits that "my ability to re-interpret songs might be a noteworthy skill. My perspective as an entertainer leads me to cover songs in which I find a character that speaks to me. I become that character when I act out the song. I believe the words when I say them."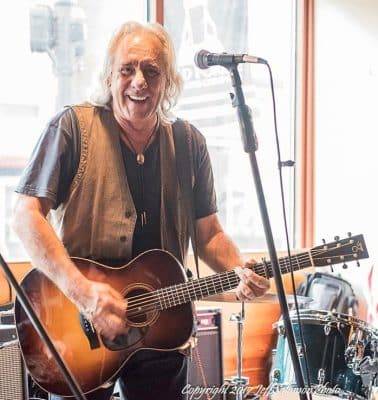 That talent shines in his sixth album, Lucky in Love, released in May 2020 and consisting of all covers except the title song. It peaked at #34 on the Folk Alliance International Folk Chart. His third album since he retired from his professional career in 2014, its eleven songs span seven decades of music history from writers as diverse as Gregg Allman, Karla Bonoff, and Tom Waits. The root of this project comes from Antonio's dramatic interpretation of "Ask A Man," by his friend, Robert Bobby, upon the singer-writer's untimely passing in 2018. Robert's death was among several losses in Antonio's year. By the start of 2019 Antonio had recorded nine more covers of songs that have been part of his live sets through the years. Almost all of them are about love or loss. Antonio had an idea from a decade ago, a song almost completed, that would be the perfect song to tie everything together. Antonio and "Steel Rails" composer Branscomb finished it together. "Lucky In Love" became the title track.
Derek Euston engineered this, his 4th album with Andrade and provided bass and guitar parts on Lucky in Love. Mark Stuart (of Stacey Earle and Mark Stuart) returned for his third recording with Andrade. Stuart, whose bio includes touring and recording with Steve Earle, Freddie Fender, Joan Baez, and Steve Forbert, plays assorted guitar parts on six songs. The old-time influenced sound of Ordinary Elephant, Crystal Hariu-Damore and Pete Damore, brings a powerful dynamic to the two oldest songs on the record.
Working with top-level artists for Lucky in Love was nothing new for Andrade. Freebo, Stuart, and percussionist Ed Lesser joined him on his two previous albums, Something Happened (2017) and Life Shakes. The latter appeared in 2014 to coincide with Andrade's retirement from a 38-year daytime career in social services.
That career started when he was graduated from Penn State in 1976. Andrade's performing career had begun there in the shadow of Mount Nittany. "I wanted to be a baseball player. But when I saw The Beatles on The Ed Sullivan Show, something happened! I learned chords on my own. I started singing and playing Bob Dylan songs in 10th grade. After singing two songs at a 12th grade assembly, I started singing and playing at parties during college, Bob Dylan and John Prine songs," Andrade says.
While entering full-time work, he also started taking paying gigs – bars, folk festivals, the odd opener at a bigger room – a bit more often than once a month and continued to do so for around 15 years. Then came a transformational decade, ending in 2003, playing in a rock cover band for dances. "I realized over time that playing in the band helped my confidence to grow. I think it started to show in my solo work by the start of the new century."
As his confidence grew, in 1996 Andrade resumed playing solo dates in addition to the band and full time work. The next year he wrote his first song, quipping "I have been writing an average of one per year ever since!"
Andrade put ten original songs on his first recording in 2000, Straydog. His sophomore release, 2007's What Do You Want From Me, delivered more original songs marked by the rock, folk, and pop influences that have come together in his sound. His performances became closer to weekly than monthly, and he began to become better known in the folk music community.
Andrade has stepped up his game since retiring from his day job in 2014. He has become well known and regarded in Folk Alliance circles by increasing his attendance at its international and regional conferences and earning official showcases at SERFA and SWRFA in 2019. He has released four albums in seven years as compared to three in the previous sixteen and  pre-COVID had pushed his performances up to five or six a month. Andrade has also worked on his performing and his songwriting.
Help Support Making a Scene
Your Support helps us pay for our server and allows us to continue to bring you the best coverage for the Indie Artists and the fans that Love them!
Make a one-time donation
Make a monthly donation
Make a yearly donation
Choose an amount
Or enter a custom amount
$
---
Your contribution is appreciated.
Your contribution is appreciated.
Your contribution is appreciated.
Donate
Donate monthly
Donate yearly
You can donate directly through Paypal!
Subscribe to Our Newsletter