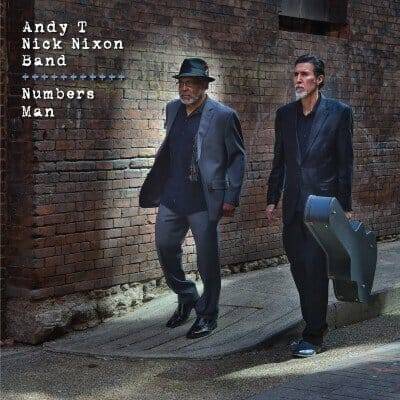 Andy T-Nick Nixon Band
Numbers Man
Blind Pig Records
In 2013 the Andy T- Nick Nixon Band released their widely acclaimed debut "Drink, Drank, Drunk" on Delta Groove Records. Their follow up recording 2014's "Livin It Up", also produced by Anson Funderburgh, earned the band a 2015 Blues Music Award nomination in the category of Traditional Blues Album of The Year.
Now on Blind Pig Records, this new album "Numbers Man" is once again produced by Funderburgh. The band still consists of Andy Talamantez, guitars; Nixon, vocals; Larry Van Loon, Hammond B-3 and piano; Jim Klinger, drums; and Sam Persons, bass. Special guests include The Texas Horns featuring Kaz Kazanoff, sax; Al Gomez, trumpet; and John Mills, baritone sax. They appear on eight of the fourteen tracks.
Nixon's beautiful soul drenched voice is even better when accompanied by a quality horn section and they don't get much better then The Texas Horns. The album opens with "Shut The Front Door" written by Talamantez whose T-Bone Walker styled guitar shines. Van Loon's piano and the horns add additional coloration. The Nixon penned "Devil's Wife" features Christian Dozzler sitting in on piano while Van Loon switches to the B-3. Kazanov takes a brilliant sax solo. "Be Somebody Some Day" written by Nixon features a baritone sax solo by Mills. Nixon's "Sundown Blues" features special guest Kim Wilson on Harmonica. The title track "Number's Man" co-written by William Cox, Richard Fleming and Nixon features a great horn arrangement and a fabulous vocal.
"Deep Blue Sea" was composed by Rene Funderburgh; Van Loon's B-3 is outstanding. Cover's include "Blue Monday" credited to Don Robey owner of the Peacock and Duke record labels; Clarence Gatemouth Brown's "Gate's Salty Blues"; Eugene Church's 1958 single "Pretty Girls Everywhere", and Canadian songwriter Dean McTaggart's "Tall Drink of Water".
The closing track, Talamantez's "This World We Live In", features a different lineup with Steve F'dor, piano; Kevin McKendree, Hammond B-3; Rick Reed, bass; and Denise Fraser, drums.
The Andy T – Nick Nixon Band will continue to gather more and more recognition as this is their best recording to date.
Richard Ludmerer