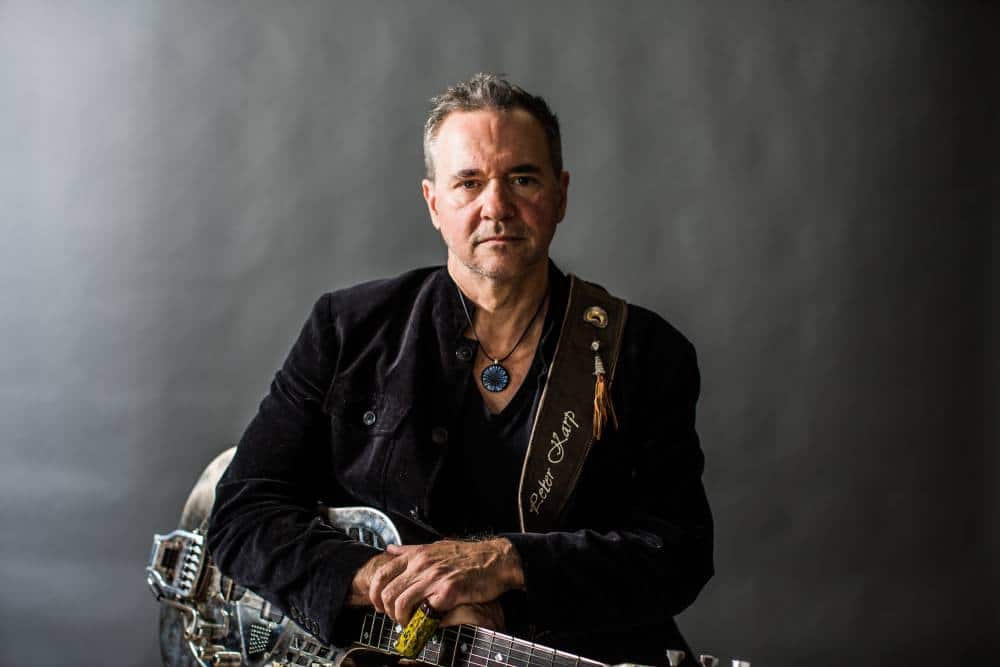 ---
---
---
---
Accolades aside, Indie Blues artist Peter Karp is a storyteller who also happens to be an assertive singer, an insightful songwriter, a spellbinding performer, and a searing slide guitarist. Fortunately, those distinctions aren't mutually exclusive. Nor is it a contradiction to call Karp both a master of the blues and an Americana aficionado. In Karp's case, all these threads are bound tightly together.
It's little wonder then that Blues Blast Magazine described him simply as "One of the most well-respected songwriters in America." Or that AllMusic.com noted, "Karp is his own man, an artist who blends roots music styles into something that transcends blues, country, R&B and swamp, John Prine's wordplay, Joe Ely's rocking instincts, Billy Joe Shaver's fatalistic outlook."
Indeed, Karp is all that and more. "I look at writing songs like writing novels," Karp insists "It becomes my way of sharing the diverse life I've led. Each of my albums represents a new chapter in my life story, a sometimes tangled trajectory that has brought me to where I am now."
Karp is a singular musician whose ability to tap tradition and keep in contemporary, finds him expressing the very essence of a fertile heartland sound. As his friend and collaborator, Rolling Stones guitarist and John Mayall's sideman Mick Taylor once noted, "Guys like Peter Karp, James Taylor and Bob Dylan embody Americana Blues, and us English guys are inspired by it."
That may explain why Karp has been the recipient of so many distinguished accolades throughout his career, including nominations for a pair of Blues Blast Awards in 2016 and top placement on the Blues charts with every one of his recent albums.
It's also not surprising that Mick Taylor offers a searing solo on "The Turning Point," a featured track on Karp's stunning new album Blue Flame. Due for release February 2nd on Rose Cottage Records, it spotlights Karp's incendiary guitar work, his keyboard prowess, his expressive harp playing and a rough hewn vocal style that gives each of the album's 13 songs an indelible presence right from the get-go. Whether it's the outright drive and determination of "The Arson's Match" and "Rolling on a Log," the loping delivery of "The Nietzsche Lounge," the heart worn sentiment of "Valentine's Day," the dogged delivery of "From Where I Stand," or the quiet persistence of "Round and Around," Karp manages to create an immediate impression, one that resonates even more with each successive spin.
Co-produced by Karp and Dae Bennett at Bennett Studios, the album also features appearances by Kim Wilson of the Fabulous Thunderbirds on harp and a group of stellar sidemen throughout,
Blue Flame becomes the latest triumph in a musical career that spans some twenty years. Born in the tiny hamlet of Leonia New Jersey, just over the Hudson River from New York City, Karp was introduced to music at an early age by his mother and sister who would take him to shows featuring the stars of the nascent English Invasion, Murray the K's freewheeling road shows and the soul artists emerging from Motown with the beckoning of Top 40 radio.
That instinctive love of music was accelerated when he went to live with his dad in a trailer park, in rural Enterprise, Alabama. It was there that he became aware of the musicians that laid the seeds for the seminal sounds of the Blues, revered pioneers like Sun House, Robert Johnson, Muddy Waters, Elmore James and Howlin' Wolf. He also began exploring the artists that picked up that gauntlet early on, original American masters like Johnny Cash, Bob Dylan, Jimi Hendrix, and Jerry Lee Lewis.
Having been bitten by the bug, Karp embarked on his own musical journey, picking up the accordion at age seven and then making a segue way to guitar and piano in his mid-teens.
He formed his first band, They Came From Houses, which quickly became a staple of New York's nascent underground scene, as represented by such iconic clubs as CBGBs, Folk City and the Mudd Club. The band shared stages with the likes of Marshall Crenshaw, Mink Deville, the Stray Cats, John Hammond Jr., George Thorogood and David Johansen, among the many, but eventually Karp became disillusioned with the music scene and walked away, preferring to spend his time caring for a new family instead of finding himself always out on the road.
He went to work for his family, but still kept his connections to music. He frequently sought out other songwriters and performers to perform with and seek advice to help him further his songwriting skill, gleaning thoughts from such artists as Willie Dixon, Robert Lockwood Jr., Sammy Cahn, Bruce Springsteen, Jackson Browne, Richie Havens and Ric Ocasek. He also took some time to travel, expanding his interest in African American culture and the indigenous music of the Sea Islands off the coast of Georgia and South Carolina.
Revitalized after his hiatus, Karp eventually returned to performing, writing songs that reflected his accumulated life experiences. That core commitment led to his first independent release, 1998's Live at the Americana Roadhouse, a poorly recorded but well received collection of original songs captured in concert. It was also the record that brought him to Taylor's attention after hearing some of its rough recordings. Taylor subsequently flew to the States to play on Karp's next effort, The Turning Point, and shortly thereafter the two embarked up a tour together. As a result Karp continued to accumulate a national following, and in 2007, he released a follow up, Shadows and Cracks, his first record for the respected blues label Blind Pig. He Said — She Said, which found him partnering with Canadian singer/songwriter Sue Foley, was released in 2010 and quickly made it into Billboard's Top Five as well. The duo's follow up, Beyond the Crossroads, came soon after and was subsequently cited by Alternate Roots Magazine as the #1 CD of the Year for 2012. In 2016, Karp released The Arson's Match, a series of recordings made with Mick Taylor at New York's Bottom Line. Funds from the project go towards a charity Karp started in his wife's memory to raise funds for ovarian cancer research.
In the meantime, Karp continues to document his observations and experiences and perform for audiences in a variety of venues, including theaters, clubs and festivals throughout the world. He remains a journeyman musician, always faithful to his convictions and the integrity of his music.
"What turns me on is absolute honesty," Karp confesses. "You have to take it seriously to stay committed to who you are and where you're coming from. That's the way I connect to my audience. You can't BS people. It's always about the honesty."
[amazon_link asins='B078Z1Y63X,B01CF29FC4,B01MT2EA8Y,B078Z251NB,B01C8QWYZW,B078Z24K8L,B000QEILO2,B007PUOONM' template='ProductCarousel' store='maasc-20′ marketplace='US' link_id='686d4854-2525-11e8-b9e6-af7ca82f5f72′]