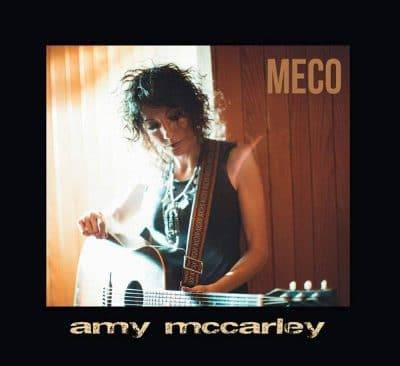 Amy McCarley
MECO
Amy McCarley is a steely eyed musician on a mission. A native of north Alabama, McCarley is on a course that is true. MECO is the NASA acronym for Main Engine Cut Off. The songs chronicle Amy's pursuit of a career in music after leaving the NASA contracting world. These are good songs. I'd say she's okay to go.
Amy McCarley has a lovely tonal quality that at times threatens to break into a yodel. A quality she uses to her advantage. Her voice is primed for pulling at the heartstrings. Influences like John Prine, John Fogerty, Lucinda Williams, and Rodney Crowell are evident in her songs. She's not reinventing the wheel, but it's clear this former NASA contractor has a trajectory.
Just like that moment when the space shuttle cuts its engine and trust in your abilities takes over. The album opens with "A Clue". Being confident in your ability is part of the recipe. Knowing to ask for help and taking full advantage of advice is important to success. These songs attempt to make sense of Amy's path since leaving NASA behind for good five years ago. A lot of artists have day jobs, and night jobs too, and as she says in the song, "if you offer me a clue, I just might take it from you". Amy has made the clear jump into orbit and she's not flying without a crew.
MECO touched down at Tone Studios in Madison Tennessee. Kenny Vaughan and George Bradfute co-produced the album. Amy sings and plays acoustic guitar and harmonica on the album. Kenny Vaughan plays electric and acoustic guitar. Chris Scruggs contributed drums, percussion, bass, steel guitar and backing vocals. George Bradfute plays slide guitar, fiddle, viola, cello, fiddle and mandolin. Pat Alger plays acoustic guitar, Marty Stuart plays mandolin, Kenny Lovelace added fiddle and Handsome Harry Stinson contributed backing vocals.
All of the songs on MECO are original, (five written with Pat Alger). The opening song, "A Clue" is a driving country tune. "Clarksdale Blues" is a rambling blues with a beautiful slide guitar. If John Prine and Mary Gauthier birthed a song, it would sound like the reflective "Days", a lovingly longing peek back to the days that shape a young girl. "Happy" is a nice string band tune reconnecting with an old friend. "Ain't Life Funny", the last of the songs written with Songwriter Hall of Fame Pat Alger, and features Kenny Lovelace on fiddle and quintessential tongue in cheek percussion from Chris Scruggs.
The songs penned by Amy proves she can convey a message. For all the rocket propulsion analogies, Amy McCarley writes songs that will ground you. "Everything Changed" builds musically with haunting vocals, searing guitar, and driving beat. It simply rocks. "High Wire" is an acoustic and electric waltz that is beautifully balanced.
"I'm up on a high wire steady and tight
Black velvet night sky, white twinkling lights
Hemmed in by a wildfire, a distant lone siren sighs
And my mind's as quiet as this cold cold line."
"Never Can Tell" features Marty Stuart on mandolin and George Bradfute on fiddle. A lovely bluegrass picking on the front porch tune.
"Well you never can tell just where you're going to land
It might be a soft spot, but then that might just be quick sand
And you never can say just how it's gonna end
All I know is I wanna go where I can be with my friends".
Saving the best for last is my absolute favorite from the album. "How You Do" is an absolute heartbreaker that's knocking on the door of Prine or Townes. This song could give you goosebumps as a simple guitar tune, but adding harmonica, viola, and cello are the perfect accompaniment. Vocally it tugs and lyrically it's powerful.
"I've been standing in the shadows, I've been fighting lonely battles, I've been blue.
I've been shaken I've been rattled, I've been put down
I've been saddled with the truth.
And I don't know how you do me like you do.
I don't know how sleep; how you make it through."
Amy McCarley has set her course with music. Her songs are real and her guitar has grit. Amy has lived these songs and they are relatable to anyone trying to balance life. It's a good album. All systems go for launch.
Available Now To Stream & Purchase→ http://radi.al/MECOAmyMcCarley
For more information, please visit www.amymccarley.com, www.facebook.com/amymccarleymusic, www.twitter.com/amy_mccarley, www.instagram.com/amymccarleymusic