By Adam Signore
Ladies' & Gentlemen, Amanda Fish
I was honored to get to see Amanda perform recently and also receive a copy of her new CD. Going to run you through a little history for the uninitiated, show review and talk about the new CD.
Amanda Fish, Making A Scene
Amanda Fish comes from good musical stock; father was a guitar player and Mom was a church choir instructor. The latter I figure had an impact on a voice that can be subtle and soulful or fill a room without a mic anywhere in sight. Amanda had influences from Stevie Ray Vaughan to the rolling stones but was drawn to the Blues.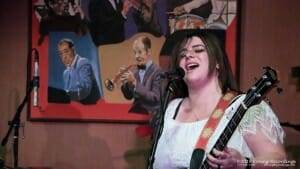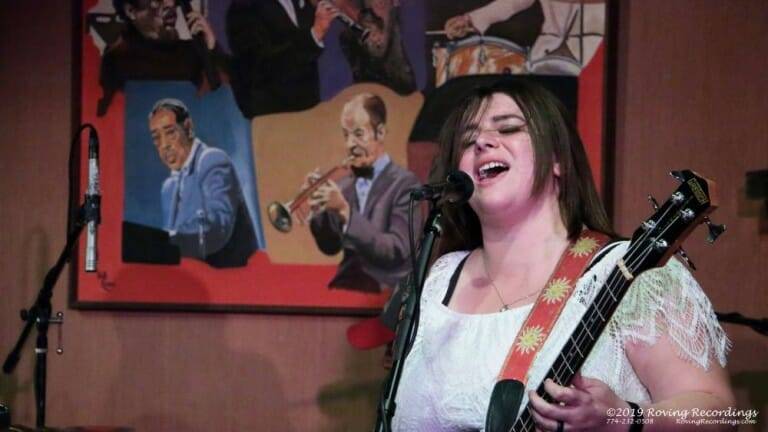 Amanda's start in music came in 2012 when her job told her she couldn't bring instruments to work anymore. Having none of that she quit her job and started booking solo gigs. in 2014 she started gigging with a full band and cut her first album with them. In 2015 Amanda traveled to the IBC's and successfully pitched it to Vizztone Label Group and there my friends is how the self-produced "Down In The Dirt" was born. Amanda garnered herself the 2016 "Sean Costello Rising Star" award for her efforts.
Through lineup changes and wanting to grow as a musician she added Bass player to her resume. She also wanted to be able to lead the band from an instrument. For amanda or any band lineup changes are a way of life with bands but her drummer Glenn was so good, and she liked his playing so much that she married him. Congratulations you two crazy kids!
Amanda, Getting Things Done
For Amanda the timespan between forming a band and getting the first album out and signed to a label was pretty short. Amanda clearly does not sit around and wait for it to happen. She goes out and makes it happen. From making friends, networking at the IBC & BMA's learning from as many people as possible. Dedicated to producing her own work she is as an amazing force off stage as on.
Amanda Fish Live… Wow!
Speaking of on stage… So, out my way is this funky little place that pulls in national acts on a regular basis. I'm lucky enough to live 15 minutes away so when I heard Amanda would be there, boom. No brainer. Even for a dunce like me.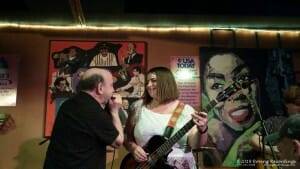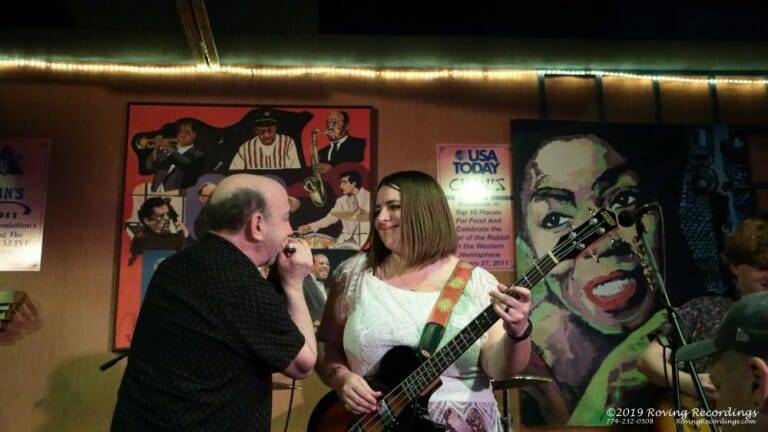 Amanda's band for this show has Billy The Kid (Evanochko) and local Boston favorite Tyler Morris on guitars. These two had an electric back and forth (no pun intended) that was amusing as it was intense. Glenn & Amanda make up the core of a Rhythm section that is rock solid and definitely drives the band.
They're on a mission from Gawd. Richard Rosenblatt on Harmonica was amazing. Richard and Amanda had great interaction via the music and on stage interaction.
Although Chans is an intimate room, this show was more intimate than you usually get. Lots of great humor and interaction with the crowd made for such a memorable evening. Amanda sang a beautiful Happy Birthday to owner John Chan as well as local music supporter Susie Groen Whelan.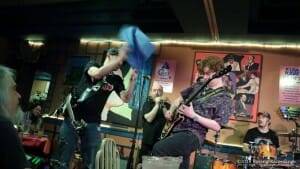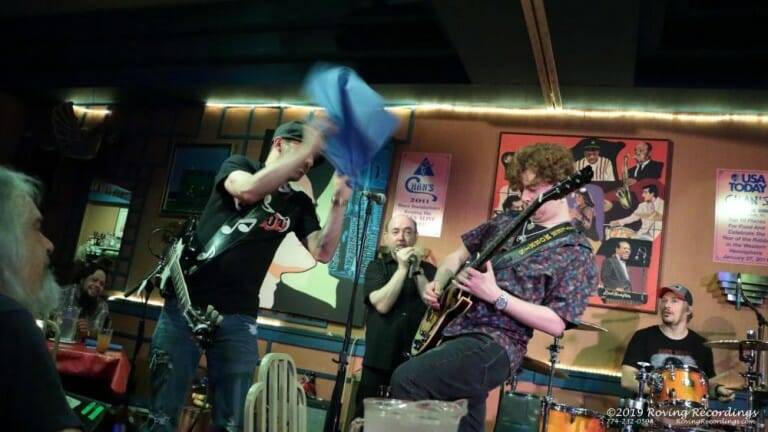 The Setlist
The mix of tunes on the set list was great and included many from the new CD. Amanda treated us to an absolutely scorching version of "Don't Mean A thing", a hard driving version of "Not Again", the soulful tune "Anymore", monster version of a monster tune, "Going Down". No, not that Going Down, which we did hear later BTW.
We also heard the title track off of Down in the Dirt and many more plus amazing renditions of Bobbie Mcgee, One Way Out, Fortunate Son & the "other" Going Down ;-).
An incredibly heartfelt version of the gospel tune "How Great Thou Art" by Chris Rice. Tom Waits' Mr. Siegal, with Richard sitting at a chair at OUR table playing harmonica while Amanda, Billy & Tyler sat on the ground in front of us.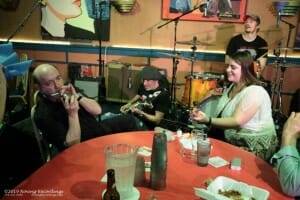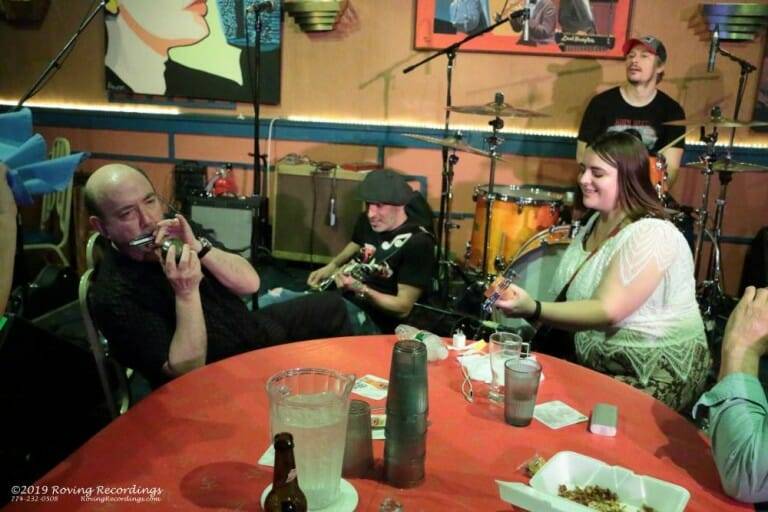 I hope you're getting the idea of the range of this show! We laughed; we cried and just hung together for a great time.
She performed a new tune, as yet unnamed that will totally floor you. How will you know? You'll know. All I'll say is live it just nails. I hope this song is like 10 minutes long on the next album, and that's all I'm gonna say about that. Either go to a show or wait for the next album.
Latest CD, "Free"
In 2018 Amanda released "Free" which won the 2019 Blues Music Award for Best Emerging Artist Album. This album is rock, rock-blues, swampy and just tastes great. Truly an American Rock album with a blues infusion, just one man's opinion of course. Per my usual, am not gonna give a blow by blow but here are some tidbits.
The album starts off with a great tune, "2020", a killer rock-blues tune with subtle to on fire guitars and vocals that showcase Amanda's deep soulful range. We move on to the swampy rock tune "Not Again" followed by "Anymore", a subtle guitar slow burner. Also on the CD is a great rock ballad, "The Ballad of Lonesome Cowboy Bill", the rocking tunes "Going Down", "Bullet" and "Free". The song "The Bored and The Lonely" could fit right into the Boston Roc scene right next to Robin Lane.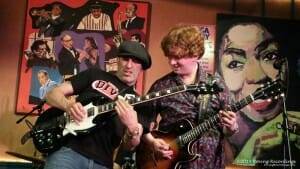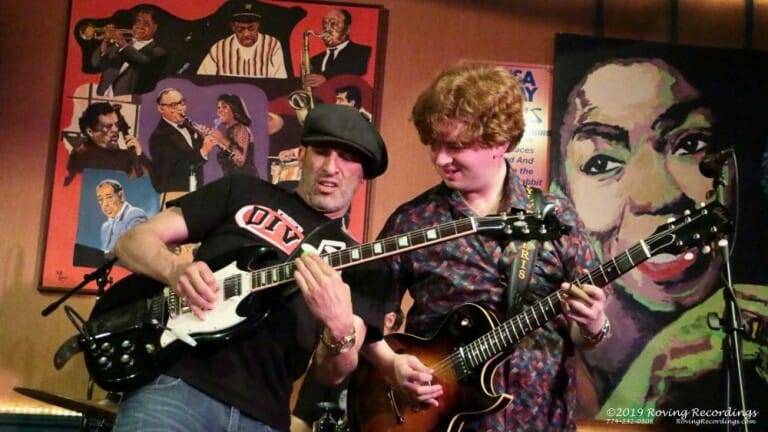 "Free" is a wonderful collection of rock and rock-blues tunes. I wouldn't try to pigeonhole the Amanda Fish band as a blues band. But they are so much more and I will always be looking forward to the next release to see what she has in store for us.