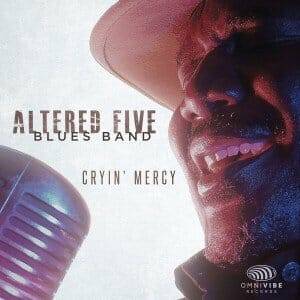 Altered Five Blues Band
Cryin' Mercy
Omnivibe Records
The Altered Five Blues Band was formed in 2002. In 2008 they released their debut album, "Bluesified". It was comprised of inventive arrangements of roadhouse covers. In 2012 they followed up with "Gotta Earn It" which contained mostly original material. Frank-John Hadley of Downbeat Magazine wrote "Taylor sings powerfully and gives the impression he's personally involved with solid songs from within the band about lessons learned and second chances." That album received a substantial amount of airplay.
"Cryin' Mercy" their newest album is an all original collection of contemporary blues. The band consists of Jeff Taylor, lead vocals; Jeff Schroedl, guitar and vocals; Mark Solveson, bass and vocals; Scott Schroedl, drums and percussion, and Raymond Tevich, keyboards. All of the songs were written or co-written by Jeff Schroedl with members of the band. The album was recorded at The Dream Factory in Madison, Wisconsin. It was mixed and mastered by Michael Saint-Leon and producer extraordinaire Tom Hambridge.
Taylor's gritty voice is the perfect vehicle for these soulful songs about strained relationships. Solveson's fat bass opens "Demon Woman" while Taylor states "your smile hides your scorn, your heart's full of thorns." Raymond Tevich's gospel styled organ fuels "I'm In Deep" which contains the lyric "hot water's at my knees. I sank all my money in a woman who couldn't be pleased". "Counterfeit Lover", reads "you had me fooled from the start". On "Who's Your Lover", Taylor sings "sexy red dress, but I didn't ask why. The bed was a mess, still I let it slide. Shoulda' known better when you changed your hair. The clues all lead to a love affair." "Here's Your Hat, What's Your Hurry", "she kicked me out the door, didn't want me no more". "Find My Wings" is beautifully melodic.
Scott Schroedl's drums lay the strong foundation for Jeff Schroedl's fluid guitar. The band is tight. On the topical "Urgent Care", Taylor sings "She drove a knife in my back, carved a hole in my heart, I need urgent care".
This band will cure whatever ails you.
Richard Ludmerer