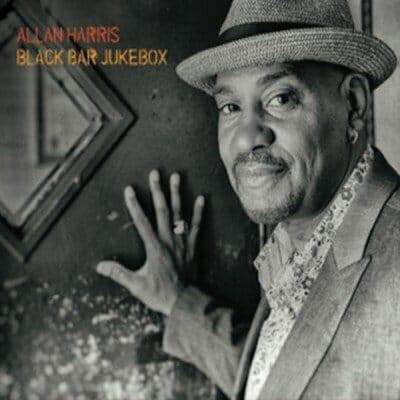 Allan Harris
Black Bar Jukebox
Love Productions Records
Allan Harris is a Brooklyn born Harlem based vocalist, guitarist, bandleader and composer. He has ten recordings in his own name.
Harris has been compared to Tony Bennett, Frank Sinatra, and Nat King Cole. He has played Lincoln Center, The Kennedy Center and the 2012 London Olympics. He is a three time winner of the New York Nightlife Award for "Outstanding Jazz Vocalist".
Harris' new album "Black Bar Jukebox" was inspired by the sounds he heard emanating from jukeboxes in black establishments, while living in Harlem, in the mid to late twentieth century. Harris' mother was a concert pianist and a graduate of the first class from New York's High School for the Performing Arts. He practically lived at The Apollo Theater as his aunt owned a soul food restaurant behind it. It was there that Marvin Gaye, Clyde McPhatter and Louis Armstrong would dine. Harris' other aunt Theodosia Ingram won the Apollo Amateur Night Competition and performed under the name, "Phoebe". It was through her that he met his mentor Clarence Williams.
The band on this recording includes keyboardist Pascal LeBoeuf; Leon Boykins, bass, and Jake Goldbas, drums. Special guests include guitarist Yotam Silberstein and percussionist Samuel Torres.
Harris possesses a silky and soulful bari-tenor voice. He wraps it around jazz classics like "I Got A Lot of Livin' To Do", "You Make Me Feel So Young", Rodgers and Hart's "My Funny Valentine", Acker Bilk's "Stranger on The Shore" and Lester Young's "I've Got The Blues (Lester Leaps In).
Harris' interpretations of lesser known songs are what really affect me. Harris covers two from Kenny Rankin, "Catfish" and "Haven't We Met". He also covers Elton John's "Take Me to the Pilot" and John Mayer's "Daughters".
Harris also includes four original compositions, "Miami", "A Little Bit Scared", "Love's The Key" and "Can It Be This is a Dream".
Harris calls himself a "storyteller through the genre of jazz". This is a diverse recording that pays tribute to the artistry that molded him.
Richard Ludmerer