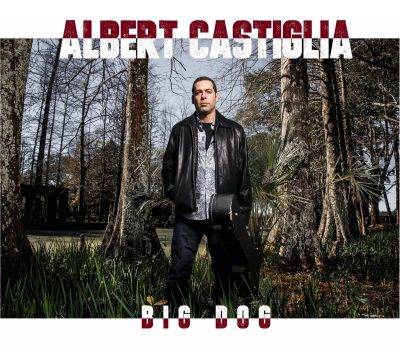 Albert Castiglia
Big Dog
Ruf Records
Albert Castiglia's big break came when he was hired to play guitar for Junior Wells. Castiglia stayed with Wells until his passing in 1998. After moving to Chicago Castiglia joined Sandra Hall's band and toured with her until 2000. Castiglia released his debut album "Burn" in 2004. He collaborated with Graham Wood Drout on 2006's "The Bittersweet Sessions" before signing with Bluesleaf Records later that year.
Castiglia released four albums for Bluesleaf; the first being 2006's "Stones Throw". In 2008 Castiglia received a Blues Music Award nomination for "Song of the Year", for "Bad Year Blues", off of his "These Are The Days" album. Castiglia followed up with two more highly successful albums; 2010's "Keepin' On" and 2012's "Living The Dream". In 2014 Castiglia signed with Ruf Records and released the critically acclaimed "Solid Ground".
Castiglia states that his "style is raw, unadulterated rocking blues…when I write songs, they have to mean something". His recordings and live performances have matured and so his fan base has grown. It is important however for our blues artists to find new ways to inspire themselves. The right producer can objectively hear things that bring out the best in an artist.
"Big Dog" is produced by Mike Zito. The band, assembled by Zito, consists of Castiglia, vocals, electric, and acoustic guitars; Zito, electric and acoustic guitars, vocals, and percussion; Scot Sutherland, bass; Rob Lee, drums; Lewis Stephens, keyboards; and guest Johnny Sansone, harp. The album was recorded at the Dockside Studio in Maurice, La. (the same studio where Castiglia's mentor Wells recorded his final album).
Castiglia opens the album with the title track "Let The Big Dog Eat" written by fellow Floridian Bill Wharton also known as "The Sauce Boss" for his gumbo making music performances. The ferocious two guitar attack enables Castiglia's commanding vocal.
Producer Zito contributes "Don't Let Them Fool Ya". The rhythm section of Southerland, bass; and Lee, drums, are relentless. This maybe the best band Castiglia has ever worked with.
"Drowning at The Bottom" is the Luther Allison-James Solberg tune previously recorded by Allison on his 1997 Alligator Records recording "Reckless". Castiglia's version rivals the original.
"What I Like About Miami" also known as the "Miami Song" is from Dania, Fl. native Charlie Pickett, a punk rock roots pioneer. Every song is a highlight on this fine album but this will be a fan favorite.
"Where Did I Go Wrong" written by Jack Daniels and John Moore was first recorded by Junior Wells on his 1968 Mercury Records album "You're Tuff Enough". Castiglia dedicates this album to his grandfather Rafael Corona; to his mentor Wells, and to Wells' nephew and road manager Michael Blakemore who passed away in November, 2013. Sansone is featured on harmonica.
The remaining six tracks are new originals. "Get Your Ass in The Van" features Castiglia on slide and the band chiming in on the chorus; both this and "What The Hell Was I Thinking" were written by Castiglia.
The other four were co-written by Castiglia with some of his best friends. "Where The Devil Makes His Deals" is from Castiglia and Drout. "Easy Distance" is from Castiglia and keyboard wizard John Ginty; once again Sansone guests on harp while Stephens sits in on piano.
"Somehow" is from Castiglia and the iconic Cyril Neville. While, "Let's Make Love in the Morning", comes from Castiglia, and another Floridian, the poetic songwriter Joel Zoss.
Zito brings the "dog" out of Castiglia who is inspired to the point of madness. This is a "balls to the wall" rockin' album and the best vocals we have ever heard from Castiglia.
Richard Ludmerer