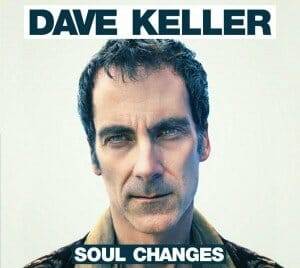 Dave Keller
Soul Changes
Tastee Tone Records
I first heard Dave Keller at Michael Cloeren's Pennsylvania Blues Festival in 2013. Dave opened the Saturday night after party in the Adventure Center. He gave an outstanding soul blues performance and then backed up the great Johnny Rawls.
"Soul Changes" received a nomination for Soul Blues Album of the Year at the 2014 Blues Music Awards. Consisting of two separate sessions, one recorded in Memphis and the other in Brooklyn, New York.
In Memphis, Keller recorded six original songs. His band for this session included the Hi Rhythm Section famous for being the house band at Willie Mitchell's Hi Records and recording with Al Green and Ann Peebles. The Section includes Charles Hodges, organ; Leroy Hodges, bass; and Mabon "Teenie" Hodges, guitar. Stax Records aces Bobby Manuel, guitar; and Lester Snell, piano, were also added as was The Royal Horns, including Marc Franklin, trumpet; Kirk Smothers, baritone sax, and Lannie McMillan Jr., tenor. Gintas Janusonis is on drums and percussion. The session opens with "Searchin' For a Sign" and suddenly the listener is transported back in time to the 1970's. It doesn't get better than this as Keller has been compared to Curtis Mayfield and Boz Scaggs.
In Brooklyn, Keller is aided by The Revelations, consisting of Janusonis; Ben Swerin, bass; Wes Mingus, guitar, and Adam Klipple, keys. Appropriately the band is rounded out by The Brooklyn Horns. Keller covers five classics; The O'Jays "It's Too Strong", Hall and Oates's "Back in Love Again", The Temptations "Don't Look Back", Candi Staton's "Heart On a String" written by George Jackson, and Sam Mosley's "Is It Over" recorded by Otis Clay (along with the Hi Rhythm Section) and also by Curtis Mayfield's Impressions.
Keller's knowledge and reverence for this music should be enough to seek out this recording. Keller is living proof of a soul blues tradition. I hope we get to hear more from Dave Keller.
Richard Ludmerer
Listen to and purchase music from Dave Keller at the Link Below!!