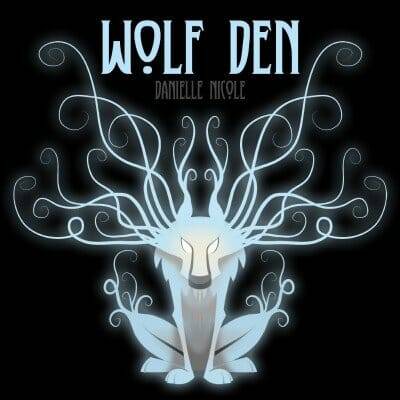 Danielle Nicole
Wolf Den
Concord Music Group
Danielle Nicole born Danielle Nicole Schnebelen grew up in Kansas City. Her mom, Lisa Swedelund instilled in her an appreciation for all kinds of genre based music. Early inspirations included Koko Taylor and at sixteen Danielle began to sing lead in her father's band "Little Eva and The Works". She started her own band "Fresh Brew" in 1999 and they participated in the International Blues Challenge. Danielle decided to learn the bass so that she could form a family band with her brothers Nick and Kris. In 2008 their band "Trampled Under Foot", named after a Led Zeppelin song, took first place in the International Blues Challenge.
"Trampled Under Foot" released their fourth album 2011's "Wrong Side of The Blues" produced by Tony Braunagel and featuring Mike Finnigan and Johnny Lee Schell; all veterans of The Phantom Blues Band. Her mom Lisa Swedelund sang the background vocals. The album resulted in Danielle receiving a 2012 Blues Music Award nomination for Best Instrumentalist – Bass. In 2013 "Trampled Under Foot" signed with Telarc Records, a division of The Concord Music Group. Their album "Badlands" was also produced by Braunagel with the same personnel as previously. The album was a huge success and the band won the 2014 BMA Award for "Contemporary Blues Album of The Year". This time Danielle also won her own BMA for Best Instrumentalist – Bass.
On September 25th, 2015 Concord released "Wolf Den". Danielle traveled to New Orleans to absorb that cities mojo. The band consists of Danielle, vocals and bass; Grammy winner Anders Osborne, producer and guitar; Mike "Shinetop" Sedovic, keyboards; and Stanton Moore, co-founder of the band "Galactic", drums.
Danielle has co-written seven songs with Osborne. The title track opens with Sedovic on organ as she sings "Welcome to the Wolf Den, Come On in". "How You Gonna Do Me Like That" is a soulful tune with a great vibe; Osborne and Sedovic nail this one. Danielle sings like Etta James on the Memphis inspired "Take It All" while Osborne takes a nice guitar solo. "You Only Need Me When Your Down" features Osborne's "Tequila" styled rhythm and it rocks from start to finish. "Waiting On Your Love" features Osborne and the addition of guest guitarist Luther Dickinson from The North Mississippi All-Stars; this track is killer.
Danielle also wrote the rocker "Didn't Do You No Good" and the funky "In My Dreams" featuring Moore on drums. She co-wrote "Fade Away" with Sedovic and the rhythm section of Danielle and Moore really get to workout.
There is only one cover on the album and it's a dandy. Danielle sings "I Feel Like Breakin Up Somebody's Home" recorded by Albert King in 1972. Once again Dickinson sits in on guitar.
This album showcases Danielle in a whole new light. I want more.
Richard Ludmerer