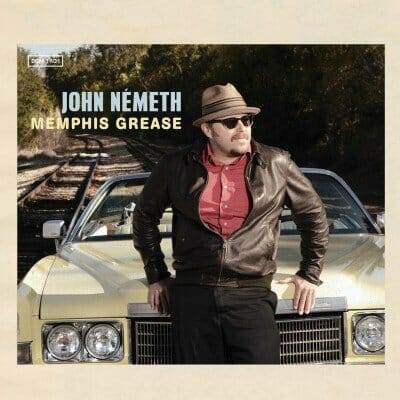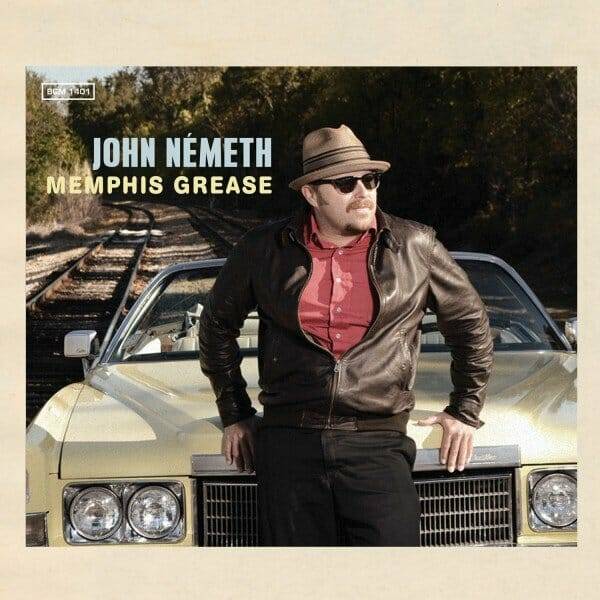 John Nemeth – "Memphis Grease" – Blue Corn Music
John Nemeth is probably one of the fastest rising blues artists in a while. Performing actively since 2002, I won't be surprised when he's called an overnight sensation.
Nemeth is an amazing harp player but it's his voice that grabs you. Nemeth is a vocal acrobat. His voice climbs and then falls again with just the right amount of tremolo to accentuate the lyrics emotions. He credits Junior Wells as his biggest influence.
Nemeth has seven previous recordings — all of them noteworthy. His greatest success came when he was signed by Blind Pig Records. In 2007, he released "Magic Touch" produced by Anson Funderburgh. Nemeth's songwriting excelled on both 2009's "Love Me Tonight" and on 2010's "Name The Day!" while his overall sound got closer to traditional rhythm and blues.
John Nemeth has an adventurous soul. Originally from Boise, ID he convinced his wife to move from their Oakland, Calif. home to Memphis, Tenn. Nemeth's soul was always in Memphis; the home of blues, R&B and rock n' roll. The day after the Nemeth's arrived in Memphis they were in Scott Bomar's studio recording this album.
The Bo-Keys are a Memphis based instrumental band originally formed in 1998 by bassist Scott Bomar to back up the legendary Sir Mack Rice, best known for writing "Mustang Sally." The Bo-Keys are comprised of veteran Memphis musicians "that made their names backing the likes of O.V. Wright, Rufus Thomas, Al Green and the Bar-Kays." In 2011, they released "Got to Get Back" a critically acclaimed, mostly original, retro sounding album with guest vocalists.
The album kicks-off with Otis Rush's "Three Times a Fool." The Bo-keys are at the top of their form. Their late guitarist Skip Pitts has been replaced by Joe Restivo. The rhythm section of Bomar and drummer Howard Grimes are deep in the pocket. Al Gamble is on organ while the horn section is led by trumpeter Marc Franklin; Kirk Smothers and Art Edmalston are on saxes. The background vocalists include veteran Percy Wiggins. Nemeth is inspired. Nemeth with this band is pure magic!
Nemeth has composed ten songs for this project. On "Sooner Or Later, you learn, play with fire and you'll be burned," Nemeth's voice soars. This track is currently receiving airplay and the horn arrangement by Franklin is outstanding. On "Her Good Lovin', she got the rhythm from her head to her feet," like most really great R&B, you just can't keep from dancin'. On "Testify," Nemeth takes us to church for some gospel. On "Bad Luck is My Name," Nemeth takes a wicked harp solo. Nemeth covers the Mort Shuman-Jerry Ragavoy "Stop" written for and recorded by Howard Tate and the results are marvelous, as my feet develop a mind of their own. Nemeth also adds a soulful rendition of Roy Orbison's classic "Crying." On "I Wish I was Home," and on all the tracks Nemeth's performance is nothing short of extraordinary. The album is meticulously produced by Bomar.
Up till now Nemeth has amassed five Blues Music Award nominations, but it will be difficult for him to be denied any longer. Nemeth will live and record in Memphis. John Nemeth has come home.
Richard Ludmerer