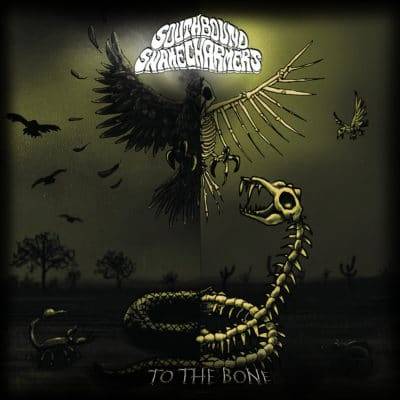 The Southbound Snake Charmers
To The Bone
You know in life ,if you get the basics right then I believe everything else falls into place. I believe the same is true for music. So when I listen to the music of "The Southbound Snake Charmers "I get that same feeling, the basics are right here. In musical terms as the album title denotes "To The Bone" Is exactly that.
A combination of Drums, Bass Guitar, and Lead Guitar, plus a voice so full of angst, power, and raw emotion that at times I'm quite sure it would and could, literally move mountains. More than once I'm getting a very strong Jim Morrison influence here. Believe you me I don't say that lightly.
So what "Chris Denman"- Vocals/Guitar "Nat Sutphin"-Bass Guitar and "Brooke Maloney"-Drums – do is- Create "ATMOSPHERE"by the bucket load Each song with its own unique style and resonance,that makes an immediate impact and connection with the listener.
Songs like "Through The Smoke" with the lyrics like" Sweet Venom kiss running through your veins, a fever burning inside yourself,"accompanied by the most hypnotic swaying,dark swamp blues. Then we have a gritty dirty blues rock of "My Crazy" foot stomping solid rock n roll.
Probably if I had to pick a favourite and that would be a difficult task, it would be "Ride On" on this song the vocals and guitar are at one,full of power and raw emotion. An unavoidable goosebump moment.
To summarise "To The Bone" cuts right to the core. If a collection of emotionally charged songs with lyrics and vocals that cut right to the spot. If that's your scene! Then its quite simple, THIS ALBUM IS FOR YOU!
Gerry Casey