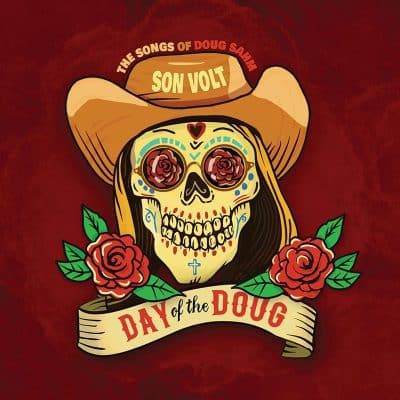 Son Volt
Day of the Doug
Transmit Sound/Thirty Tigers
Day of the Doug is the Son Volt album that doesn't sound like a Son Volt album until we reach the last two tracks. Surely, it's a tribute to the Tex-Mex stylings of Doug Sahm but that's not the point. The lonely, weary, burnished voice of leader Jay Farrar does not dominate the sound in the way it does on most of the band's offerings. Maybe it's because bassist Andrew DuPlantis who takes lead vocal on two tracks, and to a lesser extent, keyboardist/guitarist Mark Spencer sings with Farrar on most selections so that we're hearing more than one voice most of the time. To many that may well be a plus. It's simply different. In any case, Farrar had a personal connection as both a friend and a mentor with the larger-than-life character Doug Sahm who had a brief fling with fame with his Top 40 hits fronting the Sir Douglas Quintet. Far more importantly though, were Sahm's contributions to blurring the genres of rock, R&B, country, folk, Tex-Mex and psychedelia, some of which endures through bands like The Bottle Rockets, Tremoloco, and even the Band of Heathens. Sahm sang with Farrar on the final Uncle Tupelo album Anodyne (1993), a landmark album in the alt-country movement, when they recorded Sahm's "Give Back the Key to My Heart."
Here, the revamped Son Volt with all members in tow including drummer Mark Patterson and new guitarist John Horton, honor Sahm with a dozen tunes. Brad Sarno guest on pedal steel for "Beautiful Texas Sunshine" and Gary Hunt on fiddle for "Dynamite Woman." Farrar doesn't take the usual route however and instead largely picks Sahm's overlooked songs in the period from the late '60s through the '70s. Not that this writer professes to be all that knowledgeable about Sahm's catalog, but the only tune recognized was "Poison Love," not written by Sahm but having appeared in a collection of his greatest hits. As a side note, that version had Flaco Jimenez on accordion, Augie Meyers on piano, David Bromberg on dobro, and Andy Statman on mandolin. Suffice to say that Sahm kept esteemed company. Sahm himself was apparently an accomplished steel guitar player by the age of five and later taught himself to play fiddle and mandolin. While it first seemed remarkable to these ears that Son Volt could play these tunes without an accordion, their instrumentation doesn't stray too far from Sahm's '60s configurations of guitar, steel guitar, fiddle, mandolin, bajo sexto, dobro, drums, and piano. More importantly, Farrar selected a great bunch of tunes.
The album includes intro and outro segments with phone messages Doug left for Jay Farrar over the years and begins so infectiously with "Sometimes You've Got to Stop Chasing Rainbows" followed by "Beautiful Texas Sunshine." Other highlights include "Yesterday Got in the Way," "Dynamite Woman," "Poison Love" and for those who hearken to the Farrar-led classic Son Volt sound "Seguin" and the stripped down acoustic closer "It's Gonna Be Easy."
Think Sahm first, and Son Volt second. The band does a wonderful job of making us appreciate the songwriting talents of Sahm and his tremendous gift for hook-filled melodies, riffs, and choruses. Son Volt is far from weary on this outing, instead brimming with a refreshing, vitality that isn't always part of their shtick.
Help Support Making a Scene
Your Support helps us pay for our server and allows us to continue to bring you the best coverage for the Indie Artists and the fans that Love them!
Make a one-time donation
Make a monthly donation
Make a yearly donation
Choose an amount
Or enter a custom amount
$
---
Your contribution is appreciated.
Your contribution is appreciated.
Your contribution is appreciated.
Donate
Donate monthly
Donate yearly
You can donate directly through Paypal!
Subscribe to Our Newsletter