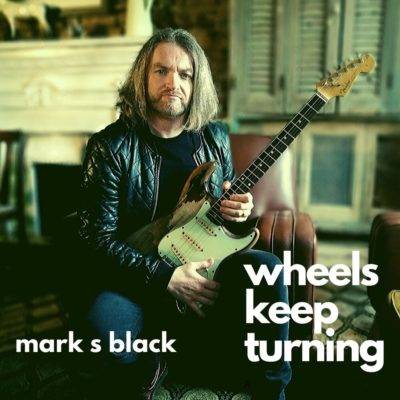 Mark S. Black
Wheels Keep Turning
"Wheels Keep Turning"is the fourth studio album from Mark S. Black. This album sees Mark reunite with Mark Ward who hails from Melbourne Australia.
Mark mixed his debut album called "The Midnight Ramblings Of A Demented Irishman " recorded back in 2004. Wheels Keep Turning was mastered by Paul Gomersall. Paul has worked with the likes of Phil Collins,George Michael,Paul Weller,Kate Bush,Echo And The Bunnymen,Aztec Camera,and Prefab Sprout, to name but a few.
But let's get to the music!
The album opens with "Each And Everyday" a prime slice of funky blues rock.It will certainly get your feet tapping. A great way to to get this album started.
Then with the second track Mark gets his stomping blues boots on, with the crunchy rock sound of "Shakedown Blues,"the pace doesn't let up either because next is the title track "Wheels Keep Turning,"it reminds me of the high octane rock n roll sound reminiscent of the earlier days in the career of rock giants Queen.
Then with "Boneyard Blues"Mark takes the listener on a trip to the Mississippi delta. You could be in a lonely graveyard around midnight listening to the ever closer howling of the oncoming hell hounds. It sends a chill down my spine right now just thinking about it.
Then we come to what I believe is the centrepiece of this album. "Sunday's"is a fine rock ballad, with more than a hint of well seasoned southern rock added to the mix. Wheels Keep Turning captures a variety of style's from acoustic blues, to stomping high voltage rock, to even some fifties style rock n' roll, and with a little bit of celtic rock included for good measure
Of the twelve tracks on this album, just one is a non original. All those years ago when Ledbelly wrote "Black Betty " he probably never envisioned his his blues would be given the high voltage rock treatment. With bands like Ram Jam and others rocking it up,that exactly what happened.
Mark's version however has changed the aspect of this classic song yet again. Only this time done more in the style of boogie rock that wouldn't have sounded out of place on Marc Bolan's T.Rex album "Electric Warrior."
So there you have you have it, Mark S.Black has come up with one a hell of a fine album. Wheels Keep Turning is rolling down that rock n' roll highway, with the wheels on fire and no signs of slowing down. One for the record collection, that's for sure.
Gerry Casey