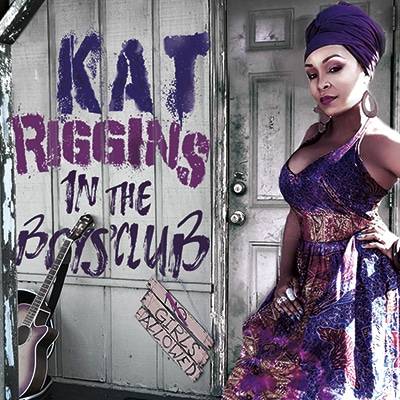 Kat Riggins
In The Boys Club
Bluzpik Media Group
Katriva Riggins hails from Miami, Florida. Her parents instilled in her a love for all genres of music from gospel, to soul, to country and to rock. Her primary influences include Nina Simone, Tina Turner, Etta James and Koko Taylor. She has been on the South Florida blues scene for some time. Riggins released her first full length album "Lily Rose" in 2014.
In February 2016 Riggins opened the Fort Lauderdale Riverwalk Blues Festival. In August of that year she released her highly anticipated Kat Riggins Blues Revival album also on Bluzpik. The album received rave reviews.
This is Riggins' third studio recording. Currently the band is Riggins, vocals; Darrell Raines, guitars and keyboard; George Caldwell, bass; and Johnnie Hicks, drums. Guest musicians include Josh Rowand, Albert Castiglia and Clay Goldstein. All songs are written and produced by Riggins and arranged by the band unless otherwise noted. The album was recorded at the 42nd Street Studios in Fort Lauderdale.
The first two tracks, "Try Again" and the fantastic "Troubles Away" were arranged by the band along with guest guitarist Josh Rowand. On these Rowand plays lead; on the latter Rowand takes a finger pickin' solo while Riggins sings "I feel like drinkin' my troubles away". Included on the inside panels are two cool photos taken by photographer Sebastian Santiago; one of Riggins downing a shot of liquor, while the other is of her smokin' a cigar.
Caldwell's bass opens "Second To None", another great song, this time featuring Raines on both guitar and on a keyboard simulating a horn section. "Don't Throw Me Away" is a well written slower blues.
Albert Castiglia plays lead guitar and shares the vocal on "Kitty Won't Scratch" which was arranged by him and the band. This song could receive a lot of airplay.
Harpist Clay Goldstein plays on the rockin' "Johnnie Walker"; on "Live On" and on the closer "A Girl In The Boys' Club".
The diminutive Riggins dedicates the album to all the blues women who first busted down the door to this "Boys' club". Her trajectory is that of a rising star.
Richard Ludmerer
[amazon_link asins='B01JDAN61M,B0743THYFH,B00DPSO7KI,B01JDANBTO,B0743Z3F45,B01JDANKGI,B01JDANJ1O,B01JDANHDE' template='ProductCarousel' store='maasc-20′ marketplace='US' link_id='f8f822fd-7366-11e8-8c5c-991d0c92a11f']