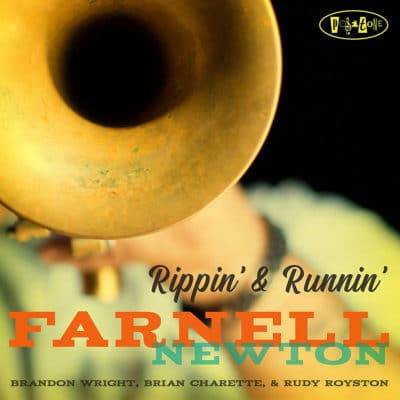 Farnell Newton
Rippin' & Runnin'
Posi-Tone
This is likely the first review on these pages from the niche jazz label, Posi-Tone, which issues a select number of albums annually, generally just one or two per month on average. Owner and man of many hats, Marc Free, produces, records, markets and more than anything, has discerning ears in choosing his artists, many of whom are early in their recording careers. Such is the case for trumpeter/composer Farnell Newton, who delivers his second release for the label, Rippin' and Runnin'. Newton is joined by strong players in this quartet comprised of label stalwart Brandon Wright on tenor, renowned organist Brian Charette and NYC in-demand drummer Rudy Royston, also a frequent Posi-Tone session man as all recordings are done in New York.
Four of the eight selections are Newton originals, who after being raised in Miami, FL attended the Philadelphia High School for creative and Performing Arts, studied with his uncles, saxophonist/ composer Conny Murray and influential avant-garde drummer Sunny Murray. From there Newton studied in Denver, at Oberlin in Ohio, finally settling in Portland, OR where he earned his master's degree in In Jazz Studies and Performance from Portland State in 2008. Newton is involved in all kinds of pursuits, which is quite amazing considering he's the father of five children.
These are his words – "As a husband, father of five beautiful kids, A&R of Licensing at Marmoset Music, Client Relations at WLCR, and in-demand musician I find myself constantly being pulled from place to place. So, when you see me out and about and ask me what I've been up to, the first thing I will you tell in "Rippin' and Runnin'." What he didn't mention is that he hosts his own jazz radio show at KMHD an making records in several genres. He has performed with Aretha Franklin, James Moody, Muhal Richard Abrams, Mel Brown, Jill Scott, "Bootsy" Collins, Stevie Wonder, Karl Denson, and Galactic to name just a few.
This is straight-ahead jazz, with some elements of soul-jazz but mostly hard bop. Newton's sound somewhat resembles the fiery trumpeters Woody Shaw, Hannibal Marvin Peterson, and Charles Tolliver. He opens with "The Roots" which appeared on his label debut, Back to Earth, and it's nostalgic for his teenage days in Philly listening to the recently passed Bootsy Barnes, Sid Simmons, John Swana, Lee Smith, and Orrin Evans. "The Five A.M Strut" is penned by award-winning composer Ezra Weiss, who wrote when he and Newton played in an after-hours club in Portland until the wee hours of the morning. It kicks along with soulful groove laid down by the rhythm section while both Wright and Newton unleash their fire.
"Another Day Another Jones" is from Wright, who tours with Nile Rodgers, when not writing or recording. The piece opens with the horns in unison on the head before Wright, Charette, and Newton take their excursions in that order. "Holding Still" is an original inspired by organist Larry Young's near iconic fusion album, Unity. As you'd guess it's a showcase for Charette on the B3 with Newton's solo full of short bursts while Wright heats it up on his energetic turn. This marks the first time Newton has collaborated with Charette yet Newton and Royston, who takes an explosive drum solo near the end, have been friends for over 20 years. Tempo slows for the sensitive the ballad, "Little Rose," which Newton composed for his wife.
Touring musicians will relate to "Gas Station Hot Dog," in which Newton compared the writer's sliding notes to his own churning stomach. Appropriately, Newton twists and churns some notes in growling style. The title track plays to Newton's multi-tasking personality and has the kind of bustling vibe one associates with NYC. Both he and Wright take explosive solos on this one. That combustible performance requires a calming break and Newton obliges with a tender cover of Duke Ellington's masterpiece "Come Sunday," which Newton loved to perform in church while in college and delivers a reverent take here.
Those who love organ fueled jazz and some of those great Blue Note albums of the '60s and '70s will appreciate Newton's tunes, albeit a bit more contemporary but possessing plenty of sparks too.